Water lilies melt Claude Monet's heart…
It wasn't instant love at first sight for Claude Monet and water lilies. Read about how the artist came across the iconic aquatic plants that became his obsession and inspired more than 250 artworks...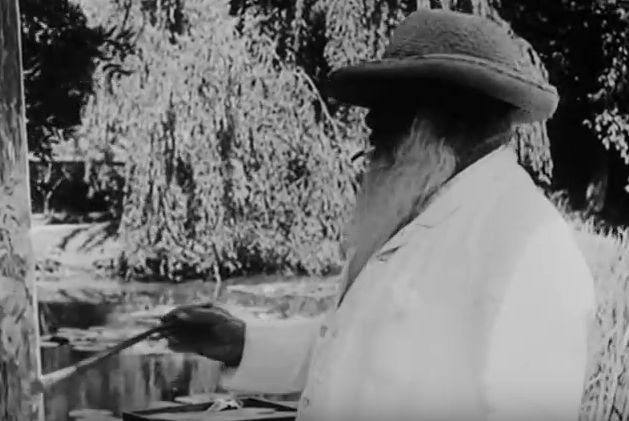 Le Temple-sur-Lot, France. After a decade of aborted attempts, Joseph Bory Latour-Marliac finally succeeded in crossing rustic white water lilies with tropical varietals purchased from collectors. Between 1870 and 1880, this expert created 19 varieties of coloured water lilies, which were all displayed at the 1889 World's Fair and won their creator first prize in his category. And a certain Claude Monet, who was crazy about flowers, spotted these stunning creations in the Trocadéro's ponds…
5 February 1893. In Vernon, Claude Monet signed the deeds to purchase a strip of land located below his property, between Rue de Giverny and the train track. Despite the local authorities being up in arms about his plans, Monet obtained an authorisation to collect water upstream of the River Epte's Bras Communal branch in order to water his aquatic plants using a sluice gate water supply. Surrounded by willows, reeds and irises, the pond was finally dug! And in 1894 the artist and gardener placed his first order with the Latour-Marliac nursery. Interestingly, he purchased as many lotus as water lilies! Despite Monet following the nursery owner's instructions to the letter – "The rhizomes must be planted horizontally and barely covered by the mud in the pond in which they are planted. They must not be submerged in more than 50 cm of water" – the lotus plants refused to acclimatise! But the water lilies thrived and multiplied.
In the winter of 1895, Claude Monet created his first painting of the Japanese bridge. But it was not until 1899 that the artist started his first major series of 'Water Lilies'. "The large water lilies, in successive patches, vie with the iris and tree reflections to dominate the microcosm of this small pond spanned by an impeccable bridge," reflects Daniel Wildenstein in his book, 'Monet: The Triumph of Impressionism.' What made Monet finally fall in love? "It took me a while to understand my water lilies," confessed Claude Monet. "I grew them without thinking about painting them… A landscape does not pervade your senses in one day… Then suddenly I had a revelation and clearly saw these wonders on my pond. I took up my palette and paintbrush. And since then, I've hardly used any other subject." On 23 November 1900, a dozen versions of water lily pond paintings were exhibited at the Durand-Ruel gallery. The next year, after purchasing an adjacent plot and diverting a branch of the River Epte, Claude Monet tripled the size of his pond. 
In 1909, 48 artworks painted between 1903 and 1908 were exhibited at the Durand-Ruel gallery under the title: "Water lilies: series of water landscapes." The scenery around the pond was reduced to a thin strip at the top of the painting or disappeared entirely, making way for the water and water lilies. "These water and reflection landscapes have become my obsession," wrote Claude Monet to Geoffroy on 11 August 1908. And thus began his great love affair with water lilies…